Partner & Manufacturing and Distribution Practice Leader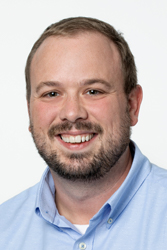 Robert Bradshaw is a Partner with William Vaughan Company who has more than 10 years of experience delivering comprehensive tax planning, consulting, and compliance services to privately owned middle-market clients. As the firm's Manufacturing & Distribution Leader, he works closely within the industry to bring insight to improve efficiencies, reduce risk and offer solutions as market disruption continues. He is well-versed in industry trends, combined with industry 4.0 challenges, which enables him to bring significant value-added recommendations to his clients.
Why did you join William Vaughan Company?
The team. The environment and people that makeup William Vaughan Company are unique to the industry. I wanted to be a part of a culture that was a good fit for my personality and work ethic.
What are you most passionate about in your work?
I love seeing how the tax code interacts with our client's situations and figuring out ways to get the most desired result.
What has been your most rewarding client experience?
Seeing the businesses I work with grow. We get to know our clients on a personal level and being a part of their success is rewarding, too.
What makes William Vaughan Company different?
Our culture. William Vaughan Company has one of the best cultures around. We are relatively young and everyone seems to love what they do here.
What do you enjoy doing outside of work?
Spending time with three kids.
What's a fun fact few would know about you?
I am into CrossFit.
Involvement
Ohio Society of Certified Public Accountants (OSCPA)
American Institute of Certified Public Accountants (AICPA)
Education 
Adrian College – Accounting